New Worcester library's 'green' cooling system work begins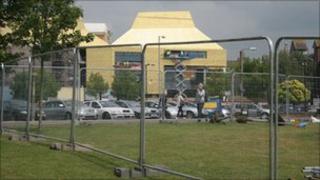 Work has begun building the pumping plant for the "green" cooling system for a new library and history centre.
Water will be drawn from the River Severn at Worcester and pumped along a pipe running under a road and car park and into the new building.
Water-filled pipes inside the new library will cool the building in summer and heat it in winter.
The riverside walk along North Quay will be closed while the work is carried out.
The pipes will be installed using directional drilling, which avoids the need for trenches to be dug.
The water will be returned to the river further downstream.
The Environment Agency gave permission for the scheme, provided the river temperature was not raised by the returning water.