Boy dies after falling into Stourport Canal Basin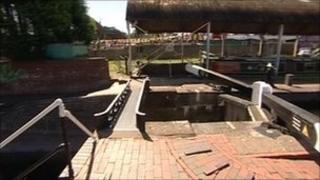 A boy has died after falling into a canal basin in Worcestershire.
The emergency services were called to Stourport Basin just before midday to look for the boy, who had fallen 20ft (6m) into a canal lock near the old Tontine pub.
An ambulance service spokesman said the lock had to be drained to enable the emergency services to find the boy.
Police said he was pulled from the water at 1235 BST but was confirmed dead in hospital about an hour later.
The boy was apparently out with a friend and was riding his bike over a narrow bridge, when he lost his balance.
Det Insp Dean Jones of West Mercia Police said he did not know if the boy could not swim or had been a weak swimmer.
"He went under the water and very tragically he lost his life today," he said.
A police spokesman said: "Attempts were made to resuscitate him and he was airlifted to Birmingham Children's Hospital.
"However he was sadly confirmed dead at around 1.45pm."
Liaison officers are helping the boy's family.