The Bishop of Worcester talks at Hay Literary Festival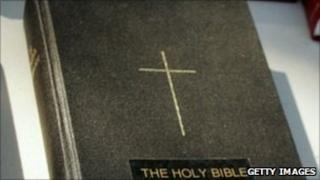 The Bishop of Worcester will be appearing at the Hay Literary Festival, talking about his favourite book in the Bible.
The Right Reverend Dr John Inge is one of three bishops speaking as part of the celebrations of the 400th anniversary of the King James' Bible.
He has chosen to talk about The Epistle of Paul to Philemon.
"With only 355 words it is one of the shortest books of the Bible and it's a gem," he said.
He will be joined by the Right Reverend Richard Harries, former Bishop of Oxford, who has chosen 1 Corinthians and the Right Reverend Christopher Cocksworth, Bishop of Coventry, who has chosen The Book of Ruth.
The session is also linked to the Michael Ramsey Prize, which aims to encourage the most promising contemporary theological writing and bring it to a wider Christian readership.
Dr Inge is one of the judges for the prize, the winner of which will be announced at the festival.