Hereford Cathedral's 'environmentally-friendly' lights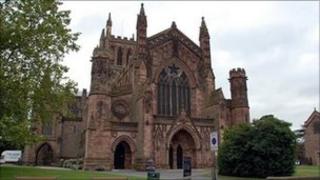 Hereford Cathedral will be illuminated using "environmentally-friendly" lighting as the last part of a major refurbishment.
The new lighting system will illuminate parts of the cathedral, rather than floodlighting the whole building.
The Dean of Hereford, the Very Revd Michael Tavinor, said lighting systems had "developed tremendously".
"They bring many benefits including using a lot less energy and therefore reducing our carbon output," he said.
Lottery funding
The new lights will illuminate the east and west ends of the cathedral, the Booth Porch facing Church Street, and the central tower.
The lights will be switched on in October, when the refurbishment of the Cathedral Close area is complete.
The work has been funded by the Heritage Lottery Fund and a number of trusts, individuals and local authorities.
The Herefordshire-based company allpay has helped meet the additional cost of the new lighting.