Hereford Cathedral marathon Bible read for anniversary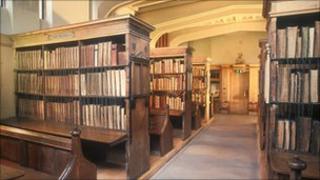 A community challenge to read the Bible out loud continuously from cover to cover in Hereford Cathedral has ended.
The event involved members of local churches and schools and was organised to celebrate the 400th anniversary of the King James version being published.
It started at 1300 BST on Wednesday and ended at about 2030 BST on Saturday.
Reading began and ended using the King James translation, with the bulk of the readings using the New Revised Standard Version of the Bible.
Chained-library opening
Canon Chris Pullin said: "We have done far better than I expected."
The Bishop of Hereford, the Right Reverend Anthony Priddis, re-read the last chapter to parishioners on Sunday.
He read from the first issue of the first edition of the King James Bible which was put on display in the cathedral.
The event also marked the 400th anniversary of the opening of the cathedral's "chained" library.
Hand-written religious texts, early edition printed works and legal books were stored on the library's wooden shelves to which many of them were chained for ease of reference and safe keeping.