Bishop of Hereford blesses solar panels on Ledbury church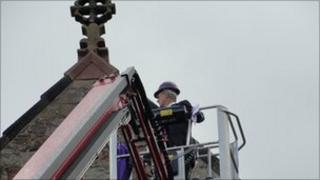 Solar panels on a 12th century church in Herefordshire have been blessed by a Bishop.
The Right Reverend Anthony Priddis was lifted to the roof of St Michael and All Angels in Ledbury by crane.
"All our churches of course face east, which means they all have a south facing roof, so they are very well placed to have solar panels on them," he said.
The 54 panels will generate 10kw of power.
The Bishop says it is important for churches to adapt to the times: "The more we can care for the environment, the more we can make use of our buildings, the more we can serve our communities, the more we can give a lead, the better."