Malvern boy takes first steps after operation in USA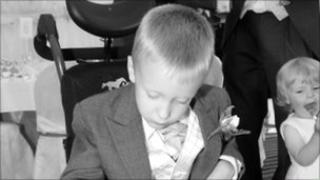 A six-year-old Malvern boy is learning to use a walker after an operation in the USA to help him with his mobility.
Ben Gannon, who has quadriplegic cerebral palsy, had some of the nerves in his brain cut during the procedure.
His mother Lorraine said doctors at St Louis Children's Hospital in Missouri are pleased with his progress.
"We want to try and get him doing as much as he can in his walking frame before we go home, and that will be the amazing bit," she said.
Before the operation Ben had been using a wheelchair, and is now learning to use his walker unaided.
"It's still very early days but you can see the improvements every day," added Mrs Gannon.
"When we go back [to the hospital], having done a few exercises in the hotel room, they're saying well done to Ben, and it's all very motivational."
An appeal to fund the trip to the USA and the operation, which could cost £45,000 in total, has so far raised £37,000.