US operation could help Malvern boy learn to walk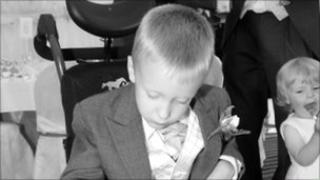 A six-year-old boy from Malvern is flying to the US for an operation which could help him learn to walk.
Ben Gannon has quadriplegic cerebral palsy and currently relies on a wheelchair. The operation will be at St Louis Children's Hospital in Missouri.
His mother Lorraine said Ben did not qualify to have the operation in the UK, which involves cutting the nerves in his brain.
The family have raised £32,000 of the £45,000 needed for the procedure.
Mrs Gannon said the idea was to scramble the signals his muscles get from his brain.
"In doing that he'll be able to release his muscles and give him the freedom to try and walk, but it won't help him learn directly," she said.
The family fly to the US on Saturday ready for the operation on Tuesday and will stay while Ben's physiotherapy starts there.
The same procedure is carried out in the UK at a specialist orthopaedic hospital in Shropshire, but Ben does not qualify because patients need to already have some walking ability.
The operation has worked for about 2,000 children in the US, but Ben's father Rick said it was uncertain when they will see results.
"It could be immediately or it could be up to two to three months or longer before we see a difference," he said.
Mrs Gannon said they were both excited and nervous because of the delicacy of the operation.
"We shouldn't not do it but at the same time you feel like you've put yourself up for a challenge."
Ben's condition means his movement is restricted and he has constantly aching muscles, which the procedure is designed to improve.
Mrs Gannon said: "The letter we've had from the doctor and the reports have assessed that Ben will be up and walking on a frame in all environments and that he will be more comfortable - that really touches me.
"How could you not want to make your child more comfortable?"