Royal wedding invite for Herefordshire farming couple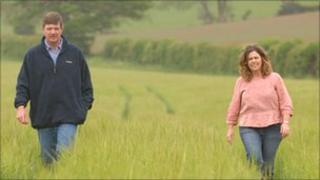 A Herefordshire farming couple have been invited to the wedding of Prince William and Kate Middleton.
Philip and Heather Gorringe from Lower Blakemere work on a farm owned by the Duchy of Cornwall, Prince Charles.
Mrs Gorringe said receiving the invitation to go to Westminster Abbey was a complete surprise.
"I had to sit down and look at it again and over that weekend I must have looked at it a hundred times to make sure it wasn't a wind up," she said.
Mrs Gorringe, who has bought a new black and white designer dress for the occasion, said: "Last year I'd been lucky enough to go to Windsor Castle and meet the Queen so I just thought 'oh it's a garden party or something' - it didn't even enter my head," she added.
The couple have also met Prince Charles, Prince William and Prince Harry before and run a natural gardening company based on Lower Blakemere Farm.
Mr Gorringe said it was a great honour but he was still digesting the news.
He said: "I think it's down to paying my rent actually, I really don't know.
"I have no concrete reason to why we've been invited but it's a great privilege.
"It is a bit surreal, I think it is quite difficult to take in - a tenant farmer from west Herefordshire being invited to a the future King of England's wedding - it is a bit of a step too far in my mind."