Malvern Fringe Festival plans two busking days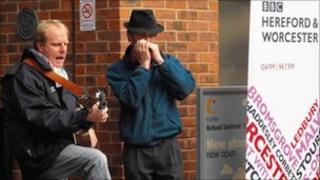 The Fringe Festival in Malvern is appealing for buskers to take part in two fundraising events.
They are planning to set up a series of 'busk stops' around the town where artists can play.
The idea is that players can do a mini tour of the town playing at as many of the 'buskstop' venues as they like.
The two busking days are taking place on Saturday, 2 April and Sunday, 12 June.
The April busking day will raise money for Malvern May Day in Priory Park - the organisers describe the grant situation for this event as "dire".
The June event is on the same day as the Elgar Uphill Cycling Time Trials, which are held in Church Street.