Yarpole Community Shop wins national award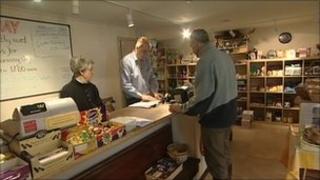 A community shop run by volunteers in a church in Herefordshire has been given a national award.
Yarpole Community Shop won the Countryside Alliance Village Shop and Post Office award.
Julian Stokes, who helps run the shop in St Leonard's Church, said it was at the heart of the community.
"I think the shop has brought the village together with a great sense of community in order to set it up," he said.
Saved
The community shop was set up by people in the village after the local store closed in 2005.
Originally it traded in the village pub, before moving into the church.
Julian Stokes feels that both the shop and the church benefit from the arrangement.
"I think it brings people into the church who wouldn't otherwise come and it makes the church easily accessible, because you don't need an excuse to come in," he said.