Hereford Cathedral marathon Bible read for anniversary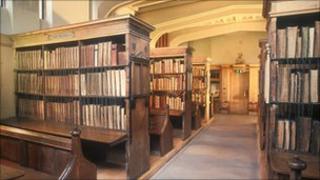 The entire Bible will be read aloud in Hereford Cathedral to mark 400 years since its chained library was opened.
The marathon reading is taking place over five days in May, finishing with a special service on Sunday, 15 May.
Canon Chris Pullin, the organiser, said: "We want this to be a whole community event, with lots of people taking part."
The cathedral's famous chained library opened in 1611, the same year that the King James Bible was published.
Slower to read
Miles Smith, from Hereford, one of the canons at the cathedral, was one of the chief translators.
The reading will begin and end with people using the King James translation, with the rest of the readings using the New Revised Standard Version of the Bible.
Canon Pullin said: "It will take over 90 hours using a modern translation - I've been warned by people who've done it that using the King James version will take much longer than that, because most people aren't used to coping with 17th century English, so read more slowly.'
The day and night read through will begin at 1300 BST on Wednesday 11 May.