New Mappa Mundi display unveiled at Hereford Cathedral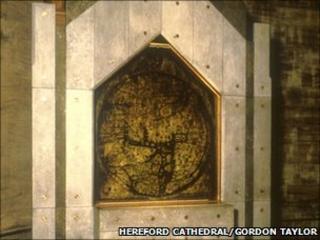 The Mappa Mundi is due to go back on display in a new exhibition designed to make the ancient map easier to see.
Canon Chris Pullin from Hereford Cathedral said putting the Mappa Mundi in a better lit case and "letting people get closer was a real priority".
From 4 April visitors will be able to see an audio visual presentation about the Mappa Mundi.
It was drawn up in about 1300 and is thought to be the oldest map of the world still in existence.
The Mappa Mundi exhibition first opened in 1996 following the completion of the New Library Building.
The new exhibition also includes an interactive screen showing some of the cathedral's ancient books.
Funding came from the Mappa Mundi Trust, Heritage Lottery Fund, the Pilgrim Trust and Lord Gavron in partnership with Hereford Cathedral Perpetual Trust.