Former Bromsgrove student wins national film award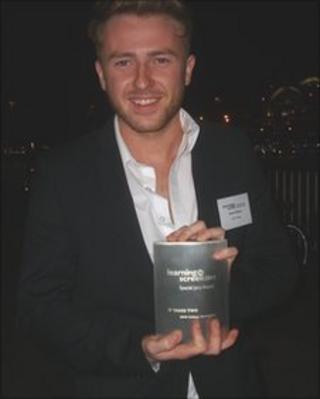 A sex education film made by a Bromsgrove man has gained national recognition from the British Film Institute.
Olly Walton, 22 from Bromsgrove, made It Takes Two as a student at North East Worcestershire College (NEW).
He's been given the Special Jury Award at the Learning on Screen awards and wants to dedicate it to the college.
"The trophy I won I'm going to leave at NEW - it will be nice to show everybody what we've achieved," he said.
The film was commissioned by Worcestershire County Council, and is aimed at children aged 13-14.
Adaptation
The judges praised the way many of the students in the college had been involved in making the film, including in areas like make-up and music.
Mr Walton studied Higher National Diploma in Media Moving Image at NEW College and the film is based on a stage play written by performing arts lecturer Jacqui McGonagle Turner.
"My aim was to expose young audiences to the truth about the choices they may face through adolescence," he said.
The plot centres around characters who face problems relating to sex and tackles issues such as sexually-transmitted diseases and pregnancy.