Approval given for £80m Hereford development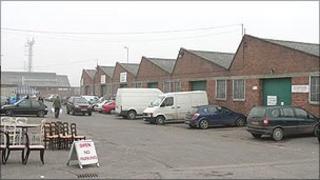 Plans for an £80m development at the cattle market site in Hereford city centre have been given the go-ahead.
Herefordshire Council approved the plans, including a department store and cinema, on Wednesday afternoon.
Developers Stanhope said it estimated the initiative would create more than 1,400 jobs.
Responding to opposition to the plans, the council leader, Conservative Roger Phillips, said they would add "life back to the heart of the city."
'Shop elsewhere'
A Waitrose store is included in the project as well as the department store and the six-screen cinema.
Before amendments were made to the scheme more than 10,000 people signed a petition asking for proposals to be reconsidered to help protect the existing city centre.
Mr Phillips said: "They [those against] were also ensuring that the communications and connectivity between the existing city centre and the old market were right.
"So that's been worked on, remodelled and also there's been a scale down in the size and the style of the design.
"The heart was bleeding anyway and this is about making sure that we've still got a heart that's alive and pumping well.
"The fact of the matter is that as we know Hereford was in decline. People in Herefordshire were choosing to go and shop elsewhere."
Stanhope said the development, funded by the private sector, would not take the form of a traditional shopping centre, "rather a series of open streets".
It said more than 3,000 people visited an exhibition of plans over three days in October 2010 and 75% of those who offered formal feedback were in favour.
A new cattle market is due to open on the outskirts of the city in June this year.