Worcestershire sports funding given for disabled people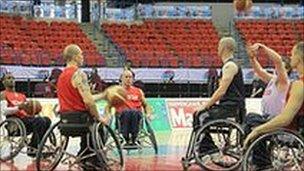 Up to £400,000 has been allocated for improving sporting access for disabled children and their families in Worcestershire.
Funds were secured by local councils and health trusts after an assessment revealed few sporting opportunities for disabled children in the county.
Some of the money will help to buy adapted rowing boats and specialist horse riding and gymnastics equipment.
It will also help set up a disability scuba-diving club in Evesham.
The money was secured by the Sports Partnership for Herefordshire and Worcestershire alliance of eight local authorities and two primary health care trusts.
Projects earmarked for investment include a trailer to transport wheelchairs for the Worcester Wheelchair Basketball club, specialist equipment for Evesham Sub Aqua Club, bespoke driving carriages for Stourport Riding Centre and adapted rowing boats for Evesham Rowing Club.
Funding will also be given to Kingsley College in Redditch to buy sports equipment for students.
Sanders Park in Bromsgrove will receive money for adapted bicycles for hire, and funding will support holiday programmes and two disability sports development officers.
The partnership's director, Steve Brewster, said: "We are absolutely thrilled to be able to announce funding for such a worthwhile cause.
"Improving opportunities for disabled children and their families has always been a key driver for us but due to lack of funding we have often had to curtail our plans.
"Securing such a sizeable grant is thoroughly heartening and we look forward to delivering a whole host of worthwhile projects across Worcestershire in the next couple of months."