River death father Christopher Grady 'knew what he was doing'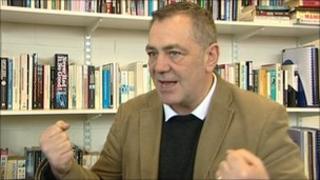 Christopher Grady knew what he was doing when he drove his car into the River Avon with his two terrified children in the back seat, a criminologist has said.
"This wasn't a simple emotional reaction to a particular set of circumstances," said David Wilson, Birmingham City University professor of criminology.
"There was a great deal of planning and forethought."
Grady was found guilty of murder and attempted murder at Birmingham Crown Court after driving his car, with his two children in the back, into a river on 11 February 2010.
Gabrielle, aged five, was trapped inside the submerged car for two hours and died in hospital three days later. Six-year-old Ryan survived.
Mr Wilson said Grady had to get the children into the back of the car and then had to drive to where he knew the river was deep enough for the car to sink.
Custody battle
He also had to calculate a long enough run-up and to accelerate to ensure the car plunged into the river, none of which happened by chance, he said.
The criminologist said Grady's motive was to get revenge on his previous partner, Kim Smith, the 37-year-old mother of two of his children.
Grady, who had been engaged with his ex-partner in a long-running custody battle for the children, had arranged for Gabrielle and Ryan to stay with him the night before.
He put them in the back of his car and drove them to the River Avon in Worcestershire, having first told their mother she would never see them again as she tugged ineffectually at the handles of the locked car doors.
Two witnesses told the trial at Birmingham Crown Court they saw Grady driving aggressively round in circles in a field by the river in Evesham, while his children banged on the windows screaming.
"The act of placing your two children in the back of your car, knowing they can't swim and then plunging your car into the River Avon, knowing that would place them in difficulty to the extent that one of them drowned, seems to me, to be one of the most callous and thought-through crimes that we could be dealing with," Mr Wilson said.
Increasingly common
He added that Grady was a classic example of a family annihilator; someone who wanted to obliterate their family in the context of a long-running domestic dispute.
Family annihilators typically have financial and marital difficulties. Grady had both.
The self-employed welder and blacksmith owed £2,800 to the landlord of his business premises and had recently been evicted from his home.
Grady increasingly saw the children as a stick with which to beat his previous partner, Mr Wilson said.
"These are dreadful words, dreadful adjectives; a stick with which to beat a previous partner, but in the world view of a family annihilator he is seeking revenge," said Mr Wilson.
"He wants to have power in a set of circumstances in which he feels increasingly powerless."
Parents killing their children is not a new phenomenon, but family annihilators are treated as a modern development because of legal advances in women's rights, he added.
As mothers are given more compensation through the courts for separation and family breakdown, male family annihilators can feel increasingly dispossessed and view their children as possessions in a separation battle, Mr Wilson said.
Although family annihilators can be women, they are more likely to be men.
The more family courts decide in favour of women, the more likely it is there will be more cases of family annihilation in the future, he added.
"My heart goes out to Miss Smith, the children's mother, and we should have very little sympathy for Mr Grady.
"The fact he says he can't remember doing it, doesn't seem to hold much credence."