Evesham river death father 'talked of prison'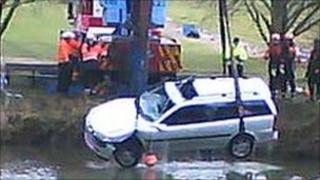 The half-sister of a girl who died after being trapped underwater told a court their father spoke about going to prison the night before the tragedy.
Birmingham Crown Court has heard that Gabrielle Grady, five, spent two hours submerged in the River Avon in Evesham, Worcestershire on 11 February 2010.
The court was told she became trapped in her father's car after he drove into the water, and died three days later.
Christopher Grady is accused of his daughter's murder.
He is also charged with the attempted murder of his then six-year-old son Ryan Grady, who was on the back seat of the car when it began to sink but was rescued from the water by police divers.
Mr Grady, 42, denies both charges.
'Look after children'
His daughter from a previous marriage, Kristie Grady, told jurors that when she spoke to him on the evening of 10 February 2010 she feared he was planning to harm Ryan and Gabrielle's mother, Kim Smith, 37.
She said: "He asked me if I would look after the children if he ever went into prison.
"I thought he was trying to say that he was going to hurt Kim."
The 21-year-old said Mr Grady, Ryan and Gabrielle stayed at the home she and her siblings shared with their mother Suzanne Grady that evening, kissing her on the forehead before he left the next morning.
Miss Grady told the court the first she knew about the river tragedy was when she received a text message from Kim Smith on 11 February 2010 which read: "Your dad is killing the kids in the river, police are after him now."
Earlier in the trial jurors heard that Mr Grady and his ex-partner Miss Smith had a "volatile" relationship and often argued about his access to the children.
The court was told that Mr Grady's life "started to unravel" at the beginning of 2010.
He had been evicted from his home because of rent arrears and owed £2,800 to Robert Lewis, landlord of his business premises, the prosecution said.
The trial continues.