Evesham river death girl had 'no hope' of recovery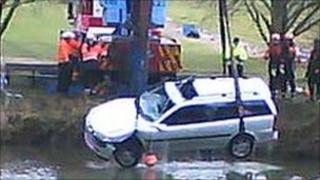 A five-year-old girl who died after she was trapped underwater in a freezing river had "no hope" of recovery, a court has heard.
A jury at Birmingham Crown Court heard Gabrielle Grady's temperature dropped to 14C after she spent two hours in a submerged car in the River Avon.
Christopher Grady, Gabrielle's father, denies her murder and the attempted murder of his son Ryan, who was six.
The court heard Mr Grady, 42, drove into the river after a row over access.
Jurors were told the children were in the car when Mr Grady, 42, drove into the water in Evesham, Worcestershire, on 11 February 2010 after an argument with Miss Smith about his access to the Gabrielle and Ryan.
Mr Grady and Ryan were rescued from the river by police but Gabrielle spent two hours stuck in the car before she was pulled through the sunroof by specialist divers.
In a statement read to the court by prosecutor Graham Reeds QC, Dr Heather Duncan, a paediatric consultant who treated Gabrielle, said that despite efforts to revive her when she was recovered from the water she was "pulseless and without signs of life" at the scene.
'Not breathing'
Jurors heard she was given oxygen and CPR before being airlifted to Birmingham Children's Hospital.
Dr Duncan said: "On arrival at Birmingham Children's Hospital Gabrielle was receiving cardiopulmonary resuscitation (CPR). She was lifeless, asystolic and she was not breathing."
The court heard that Gabrielle, known as Gabby, was pronounced dead on 14 February after a scan showed "extensive brain damage" and tests showed she had sustained a severe heart injury.
In her statement, Dr Duncan said Gabrielle's breathing tube was removed after it was explained to Kim Smith, Gabrielle's mother, that her daughter had "no hope" of recovery.
A pathologist found the cause of her death was a lack of oxygen to the brain, caused by total immersion in cold water.
The court also heard from Robert Lewis, Mr Grady's former landlord, who said he feared his tenant would kill himself in the weeks before the incident.
Mr Grady, a self-employed blacksmith, rented a workshop in Evesham from Mr Lewis.
Mr Lewis told the court: "I had psyched myself up to coming in one morning and finding him hanging in the workshop but never once did I think he would do anything to the children. It never crossed my mind."
The trial continues.