River plunge Evesham children 'screamed for help'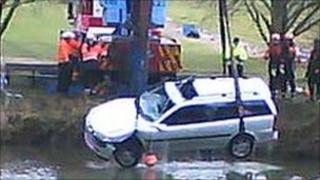 Two children trapped inside a sinking car banged on the windows and screamed for help, a court has heard.
Eyewitnesses told of seeing a car driven by Christopher Grady, 42, go faster and faster into the River Avon in Worcestershire.
Mr Grady denies murdering daughter Gabrielle Grady, five, and attempting to kill Ryan, aged six, in February last year.
Birmingham Crown Court heard the scene was "like a horror movie".
'Foot to floor'
Nicholas Langstone, who was working nearby, told the court he watched Mr Grady circle "aggressively" around a field in Evesham before driving into the river with the two children inside.
He said: "The first thing I knew I could hear the kids screaming in the car."
He said Mr Grady put his "foot to the floor" and "just went faster and faster, straight down the edge of the riverbank into the river".
Five-year-old Gabrielle died in hospital three days after being rescued from the submerged vehicle where she was trapped for two hours.
Her brother Ryan, who was six at the time of the incident last February, survived after being pulled from the water by police.
In a statement read to the court, retired social worker Philippa Henley said: "I could hear them banging on the glass while they were going round the field and I could hear the fear in their voices.
"I was waving my arms and saying, 'Don't do it'. It was like a horror movie."
Notes in car
Prosecutor Graham Reeds QC said Mr Grady told doctors he had "had enough" of former partner Kim Smith "trying to take my kids away".
Handwritten notes found in the car included one addressed to Miss Smith which read: "You led me to this, my kids with me now."
Another asked a friend to put three "trees of light" up at his funeral, adding: "Will you say I love my children, and this is the only way to be with them and keep them safe."
Mr Grady had been evicted from his home and owed £2,800 to the landlord of his business premises, Mr Reeds said.
The trial continues.