Hereford head warns colleges may close due to cuts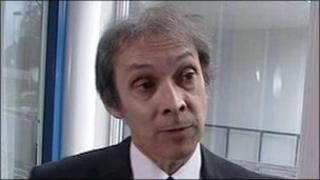 A group representing sixth form colleges says some smaller institutions could close due to spending cuts.
The Sixth Form Colleges' Forum said it was concerned about a reduction in Entitlement Funding which pays for extra-curricular activities.
The government wants to see more money spent on additional places and an increase in apprenticeships instead.
Jonathan Godfrey, Hereford Sixth Form College principal, said some colleges would become "financially unviable".
Mr Godfrey, who sits on the forum, told the BBC's Politics Show in the West Midlands: "We're not suggesting we should be immune.
'Financially unviable'
"We're very happy to take our share of the cuts, but what's proposed is a significant cut in 16-19 education."
He said this would mean activities such as sport and music being cut.
Mr Godfrey added: "My college for instance will see a reduction of £1m over four years and the suggestion is we save money in terms of our non-examined curriculum.
"I think some small sixth forms, some small colleges, will become financially unviable if these continued cuts go ahead."
Sixth forms in England are to receive extra funds to refurbish buildings and meet the demand for additional places.
The injection of £91m includes £57.4m for sixth form colleges for building needs and £30m for school and college places for 16 to 19-year-olds.
A further £3.9m maintenance grant will be given directly to sixth form colleges.
Christopher Pincher, the Conservative MP for Tamworth, said: "We need to invest to help kids get into apprenticeship schemes."