New York driver jailed for killing Britons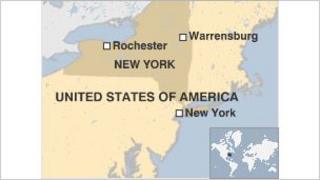 A drunk driver has been jailed for 25 years after his car hit and killed two 21-year-old Britons who were working in the US.
Emily Lewis, of Aberdeen, and Dominic Hartley, of Bredon, Worcestershire, were hit by Peter Goldblatt's 4x4 vehicle in Warrensburg, New York state.
Goldblatt, 40, had been drinking all evening when he struck the pair last June, Warren County Court heard.
The victims' parents viewed the sentencing via the internet.
Goldblatt can apply for parole after eight years.
'Brutal killing'
District Attorney Kate Hogan said she spoke with the parents of Mr Hartley and Ms Lewis after the hearing and they "welcomed" the sentence.
She said: "The defendant completely deserves to be in prison for so brutally killing two innocent people with such promising futures.
"While I am gratified that the court imposed the maximum sentence, it does little to assuage the absolute heartache that these families feel."
Mr Hartley and Miss Lewis were all working at Camp Echo Lake and had been standing on the side of the road in a group of seven people when they were hit.
In a statement read to the court, Miss Lewis's father Paul, a partner in a legal firm, said his daughter's death was "brutal" and her injuries were "horrific".
"Emily was full of hope and dreams and aspirations for the future, none of which will now be fulfilled," he wrote.
A statement from Mr Hartley's parents, Bernadette and Andrew, and his sister Laura said: "We will never see Dominic grow older, meet the love of his life and continue to share his love of life.
"It is like a bomb went off in the middle of our family on 24th June but the after-effects are still going on and will do so forever."
Goldblatt was found guilty of aggravated vehicular homicide, vehicular manslaughter in the first degree, manslaughter in the second degree of Emily Lewis, manslaughter in the second degree of Dominic Hartley, reckless driving and driving while intoxicated.
The court was told he was "sorry" for what had happened.