Vale of Evesham wind turbines plan thrown out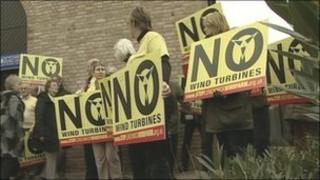 Plans for 126.5m (415ft) high wind turbines in Worcestershire have been refused by a council.
Campaigners have opposed ScottishPower Renewables' plans to build five turbines on land near Bishampton Bank in the Vale of Evesham.
An application was refused by a margin of 19 to one at a Wychavon District Council meeting.
ScottishPower Renewables was deciding if it would appeal.
Dozens of protesters packed the planning meeting at the council offices.
'Very strong project'
Tony Waghorn, from the anti-wind farm lobby, said: "We're absolutely elated. This just vindicates two-and-a-half years of hard work."
He had highlighted "noise and visual impact" concerns, adding: "Now if you can imagine a 40-storey building that moves. I mean the blades would sweep an area the size of a football pitch."
Lynn Davies, from the pro-wind farm lobby, said it was "very disappointing".
Derek Christie, of ScottishPower Renewables, said: "We believe we put together a very strong project that met environmental and planning requirements."