Campus disruption over University of Worcester lorry fire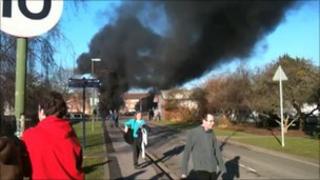 A lorry caused disruption to a university when it caught fire in the grounds.
A building on the St John's campus at the University of Worcester was evacuated as the lorry set alight and explosion sounds were reported.
Hereford and Worcester Fire Service said a lorry, thought to be loaded with bitumen and LPG cylinders, was alight, and a nearby building was at risk.
The university said there was a short disruption to lectures.
Firefighters are remaining at the scene, damping down and ensuring the area is safe.