Worcestershire Gulf War pilot prayed in captivity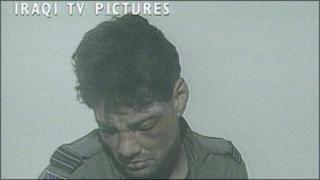 A former RAF pilot held captive for seven weeks during the first Gulf War said he prayed in captivity after previously being an agnostic.
John Peters spoke before Sunday's 20th anniversary of Allied forces launching a massive bombing campaign leading to victory over Iraq.
The businessman, from north Worcestershire, was tortured.
He said he would not go to church now, but believes "there is something greater than us as individuals".
Mr Peters, who was forced to appear on television 20 years ago, said: "I suppose my conclusion now is 'do I believe in God?' Yes I believe in a god.
"'Do I pray to them?' Sporadically maybe...
"I found myself in captivity praying and I found myself going 'what am I doing?'... I always described myself as an agnostic."
Crimes against humanity
The bombing campaign began a more widespread offensive, Operation Desert Storm.
It led to Saddam Hussein's forces leaving Kuwait, having invaded on 2 August 1990.
Coalition soldiers then entered Iraq and advanced to 150 miles from Baghdad before President George Bush Snr declared a ceasefire.
Saddam continued to be a thorn in the international community's side leading to the second Gulf War in 2003, when Allied forces controversially invaded Iraq and brought about his fall.
He was hanged in December 2006 for crimes against humanity.