Bishampton's threatened village shop reopens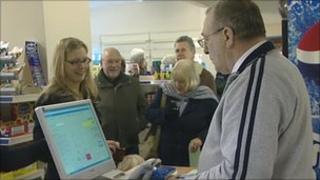 A Worcestershire village shop threatened with closure has reopened after it was bought by the parish council.
Bishampton Stores and Post Office was in danger of closing for good when the previous leaseholder sold it last summer.
But residents wanted to keep it open and Bishampton and Throckmorton Parish Council stepped in.
Shop manager, Tony Dorrance, said the store was the soul of the village.
"We believe it's a vital part of the village and we hope it's here forever," he said.
"Without the shop the village really hasn't got a soul."