Pet dog saved from freezing River Wye in Hereford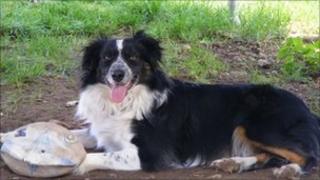 A collie dog has been pulled out of the River Wye in Hereford, 50 minutes after slipping through the ice.
Tally, a four-year-old collie bitch, slipped on the ice and fell through a frozen area near the Old Bridge at about 1710 GMT on Saturday.
Two fire crews used a rescue boat to pull her to safety and she was treated for the effects of hypothermia.
Tally was recovering well at home with some sausages, a fire and rescue service spokesman said.
Neil Pigott, district fire safety manager from Hereford and Worcester Fire and Rescue Service, said: "Tally had fallen into the freezing water and became very distressed as she tried to climb back on to the ice, and we arrived to find quite a crowd gathered close by, shouting out encouragement to her.
'Repeat warnings'
"The water rescue crew then used lighting to negotiate their way across the icy river in the dark, where they quickly located the dog and pulled her from the water."
Tally was taken to the Rowing Club where she was treated by a vet to raise her temperature.
The fire service said it was grateful no-one else had tried to rescue Tally.
"Dogs are much more resilient than people, and it is unlikely that a human would have survived such an ordeal.
"We would therefore repeat our warnings for people to keep their dogs safely on a lead when near the river or any open water," Mr Pigott added.