Students protest over university tuition fee rise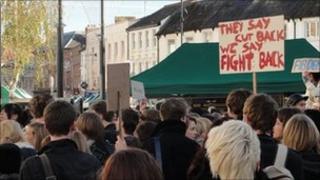 About 1,000 people have taken part in protests in Herefordshire and Worcestershire against university tuition fee rises and budget cuts.
People gathered outside North Bromsgrove High School, and in Hereford and Worcester City Centre on Wednesday.
West Mercia Police said the protests had been peaceful and were part of a national day of student demonstrations.
The Liberal Democrats leader Nick Clegg has said he regrets having to abandon his pre-election pledge to scrap fees.
The coalition government plans to allow English universities to charge students up to £9,000 per year in tuition fees.
It also plans to reduce education maintenance allowance, which gives further education students and sixth formers on low incomes up to £30 a week to help with the costs of staying in full-time education.