Kittens dumped on industrial site in Hereford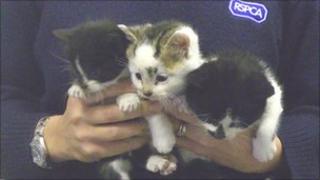 Three five-week-old kittens have been rescued after being dumped at an industrial unit in Herefordshire.
The RSPCA said the shivering, wet kittens were discovered in the doorway of an industrial unit at Rotherwas Industrial Estate in Hereford.
Animal welfare officer Suzie Smith said she was "appalled", adding the kittens should still be suckling.
The charity said the number of kittens and cats being abandoned was at "an all-time high".
It received 8,455 reports of abandoned cats and kittens across Britain between January and September this year.
This has risen from 5,945 for the same period in 2009, the RSPCA said.
Ms Smith said: "I would think it is most likely that the kittens were a result of an unwanted pregnancy and as soon as they showed an interest in solid food they were discarded."
She added: "People must act responsibly and have their cats neutered."
The three kittens, which were rescued on 17 November, are being cared for by the RSPCA's Herefordshire branch.
Anyone with information about the incident was asked to contact the RSPCA national cruelty and advice line.