Payments test case for mother of Afghanistan soldier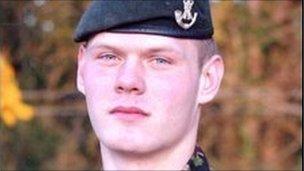 A decision to pay income support to the mother of the youngest British soldier killed in Afghanistan has been deferred.
Lucy Aldridge, a single mother-of-three from Herefordshire, was left unable to work following a work accident in 2003.
She lost her son William, 18, in a bomb blast in July 2009.
She was paid £66,000 after her son's death and has now been told the government will decide whether that makes her ineligible for benefits.
Rifleman William Aldridge, of 2nd Battalion The Rifles, was killed while trying to rescue his comrades from a blast in Sangin in the province of Helmand.
His mother received a death in service payment but Department of Work and Pensions rules state that anyone with capital of more than £16,000 is ineligible to claim income support allowance.
Mrs Aldridge has been told no decision can be made about her case because there is a lack of precedent about how compensation in Afghanistan is viewed by the government.
Although compensation had been classified for other conflicts, she said she was told no no such precedent existed in law for British troops serving in Afghanistan.
She visited Hereford Job Centre on Wednesday in response to a letter she received on Armistice Day informing her that her income support had been suspended.
Mrs Aldridge said her case was further complicated because although she was William's next of kin, she was neither his dependant, nor his spouse.
"It all hinges on this crucial answer, how are death in service payments and insurance seen, as compensation for loss of life or limb?
"Are they viewed as simply compensation or can they be viewed as a capital sum, i.e. savings?"
Related Internet Links
The BBC is not responsible for the content of external sites.