Blast soldier from Hereford unlawfully killed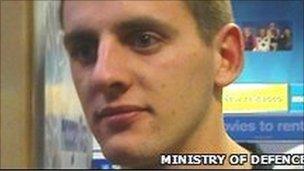 A 21-year-old soldier from Hereford was killed unlawfully by insurgents in Afghanistan, a coroner has recorded.
L/Cpl Daniel Cooper, of 3rd Battalion The Rifles, was killed as he tried to clear a path south of the Sangin district in northern Helmand.
The inquest, held at Hereford Town Hall, heard he had been looking for improvised explosive devices (IEDs) when one exploded in January.
The coroner said the nature of detecting such IEDs was a concern.
David Halpern, the assistant deputy coroner for Herefordshire, said L/Cpl Cooper had been one of two soldiers sweeping the ground on foot patrol that day in an area of the Green Zone which had a reputation for being dangerous when it came to IEDs.
When one went off, L/Cpl Cooper was given first aid before being flown to Camp Bastion where he died.
A military expert said that looking for IEDs was something of a "cat and mouse" scenario.
"We have had reassurances (from the Ministry of Defence) that moves are under way to develop equipment that will counter that, but the sooner they are in place the better," Mr Halpern said.
The MoD has expressed its sympathy to L/Cpl Cooper's family and said that the metal detectors might not find all IEDs.
"It's not an exact science and there are teams who have specialist equipment to search for IEDs," a spokesman said.
Metal detectors are standard issue and had detected countless IEDs, he said.
Related Internet Links
The BBC is not responsible for the content of external sites.