Herefordshire parkland ancient tree preservation scheme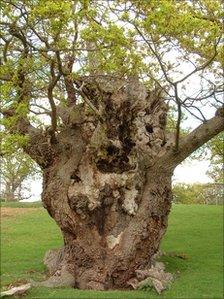 Ancient trees are being lost faster in Herefordshire's parkland than anywhere else in the UK, a charity has claimed.
Herefordshire Nature Trust said parkland dating back to the Norman Conquest had halved in size from 4% to 2% since 1918.
It has started a project to help conserve and manage the county's remaining trees and has asked for volunteers to help it record specimens.
The project has been given a £50,000 grant from the Heritage Lottery Fund.
Funding has also been obtained from the European Union, the Department for Environment, Food and Rural Affairs and Herefordshire Leader programme for rural regeneration.
Anne Jenkins, head of the Heritage Lottery Fund (HLF) in the West Midlands, said: "This [tree] loss is greater than anywhere else in the UK and this new three year project aims to increase knowledge, understanding and appreciation of these old parklands within Herefordshire."
The aim is to map out the parklands and carry out surveys of large, veteran trees, often hundreds of years old and to study their rich wildlife habitats.
Project manager Tim Breakwell said: "I am looking forward to learning more about the old parklands and their associated wildlife within the county.
"We will also be looking at their archaeological interest. If you are interested in becoming a volunteer with the project then please contact me."
Related Internet Links
The BBC is not responsible for the content of external sites.