Officer from Worcestershire acquitted of sex charges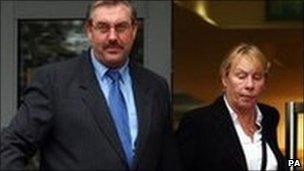 A police sergeant and his wife have been acquitted of sexually assaulting a woman after the prosecution offered no evidence against them.
West Midlands officer Nicholas Clarke, 49, who lives in Worcestershire, was formally acquitted of rape.
The prosecution accepted inquiries into a phone text message meant there was no reasonable prospect of conviction.
Joanne Clarke was acquitted of sexual assault but has admitted drugs offences and was given a conditional discharge.
Clarke and her husband, both aged 49 and living in Rednal, had been due to stand trial at Hereford Crown Court charged with assaulting the woman in Worcestershire in June 2009.
Explaining the decision not to proceed with the allegation of rape and sexual assault, prosecutor Jonas Hankin said he had been made aware at the end of last week of further inquiries made into the complainant's handset and SIM card.
Mr Hankin added: "The result of that was that I was then in a position to put into context a text message sent by the complainant shortly after waking on the morning in question.
"It became clear to me that there was no longer any reasonable prospect of a conviction."
Clarke, , a civilian police worker, pleaded guilty last February to supplying and possessing cannabis during a party at the couple's home in Rednal on 26 June last year.
Christopher Johnston, defending her, told the court that a man attending the party had rolled the "spliff" that she admitted supplying.
Mr Johnston said: "Had it not been for the other allegations in this case, it could well have been that the discovery of the cannabis could have been dealt with by a warning.
"Mrs Clarke has suffered a devastating experience over the last 16 months or so."
Judge Toby Hooper QC, sentenced Clarke to a conditional discharge after hearing that her life had been "turned upside down" by the allegations against her.
The judge told her: "Had it not been for the circumstances in which you were in fact arrested, it is clear to me ... that you would very probably have been subject to some penalty short of arrest and proceedings.
"You would very probably have been subjected to a warning or a caution."
The couple were both understood to be suspended from their posts with the West Midlands force. They left the court without comment.
Related Internet Links
The BBC is not responsible for the content of external sites.