Market open after Hereford buildings fire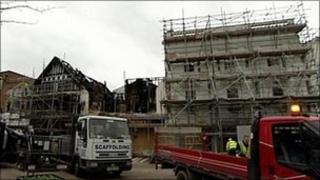 An open market has returned to Hereford after a fire which affected several buildings in a historical area.
The blaze in High Town on 21 October led to demolition work on the Card Factory site.
Scaffolding has remained by the River Island and Phones 4u buildings, but a cordon has been reduced, allowing the market to be held on Saturday.
The fire caused between £3m and £5m worth of damage, according to a Herefordshire Council estimate.
Police have said an electrical failure was the most likely cause.
The fire service was called shortly before 0430 BST and the blaze was brought under control by about midday that day after being tackled by more than 100 firefighters.
Nobody was injured in the incident.