Helmet may not have saved boy, bike-death inquest hears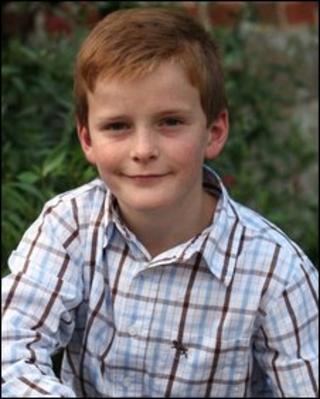 A 10-year-old boy from Herefordshire was killed when he fell off a quad bike that rolled over and hit him on the head, an inquest has heard.
Archie Scudamore died from a fractured skull on 6 August 2009.
He had been riding with his older brothers around a farm in Llangarron, near Ross-on-Wye, Herefordshire.
His injuries were so severe that wearing a helmet may not have saved him, police told the inquest. A verdict of accidental death was recorded.
Herefordshire Coroner's Court heard that Archie had fallen off his 250cc bike while riding over a mound.
His elder brothers, aged 13 and 16, had been riding a separate quad bike and put him in the recovery position before fetching help.
Their father Nicholas Scudamore, from Upton Bishop, near Ross-on-Wye, said the boys had initially worn a helmet when he bought them a less powerful quad bikes five years earlier.
'Risks too great'
Mr Scudamore said: "They would swap the helmet but as time went on, this became more and more difficult to enforce."
He said Archie had been equally as competent on the bike as his elder brothers who used them from trekking around the fields.
Mr Scudamore added: "Obviously, looking back in hindsight, the risks involved were too great, but the boys had been brought up around these bikes.
"They were doing no more or no less than goes on, on thousands of other farms. On that day, they were doing no more than I still see children doing on farms."
In recording a verdict of accidental death, the deputy coroner for Herefordshire, Mark Bricknell, said it was often difficult for parents to accurately assess the level of risk their children faced.
He added: "I am not here to be critical of the parents.
"I am sure they have suffered enough and I am sure they have gone over the situation time and time again."