Inquest into Worcestershire soldier killed in blast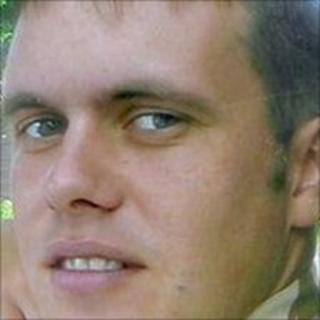 A soldier from Worcestershire was killed by a roadside bomb hidden close to an unmanned Afghan National Army sentry post, an inquest has heard.
L/Cpl Richard Brandon, 24, from Kidderminster, died instantly when his armoured vehicle hit a bomb in Helmand Province on 2 September 2009.
The Royal Electrical and Mechanical Engineer was on a repair mission for the Light Dragoons Battle Group.
A verdict of unlawful killing has been recorded on the father-of-three.
No observation
Coroner Robin Balmain said it was a matter of deep regret the sentry post, for which the Afghan National Army (ANA) was responsible, had been left unattended.
"In order to keep this area as safe as possible, there are - or are supposed to be - consistent observations along the route.
"It was their (the ANA's) function to observe the route where the explosion took place and for whatever reason that was not done," he told the inquest at Smethick Council House on Monday.
The post had been left temporarily unmanned while Afghan forces conducted a changeover of troops, the inquest heard.
No handover
The explosion ripped the armoured vehicle apart and created an 8m (26ft) wide hole in the road, less than 25m (82 ft) from the sentry post in the Babaji district of Helmand Province.
A colleague of L/Cpl Brandon, Capt Robin Smith, was stationed at a patrol base close to the blast.
He told the inquest: "The old troops that were manning (the compound) and therefore the sentry post had left that day in the daylight, which we weren't expecting them to do."
In a previous tribute, L/cpl Brandon's family said he had been "one in a million".
He was engaged to Emma-Jayne Webster and had a daughter Kaitlin and two step-sons Liam and Martyn.