Worcestershire growers enjoy bumper apple crop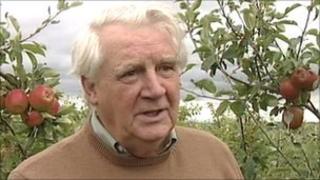 Apple growers in Worcestershire say they are harvesting a bumper crop due to almost perfect weather conditions.
A cold winter allowing the trees to become fully dormant and wet weather at the right time has made the fruit "swell like mad".
Paul Dunsby, from Cotswold Orchards Fruit Farm, near Evesham, said some of the fruit was 50% bigger than normal.
Last month, Perry cider producers in Herefordshire said they were expecting a poor harvest.
While demand for pear cider has dramatically risen, producers said they feared they might struggle to meet it.
Producer Tom Oliver, from Oliver's Cider and Perry in Herefordshire, said the pear crop tended to alternate each year and last year's was a very good harvest.
"The same factors that apply to apples don't always apply to perry pears," he said.
But Mr Dunsby said his firm was handling 20,000 tonnes of English Cox apples every day.
The smaller apples will be sold in shops and the larger ones will be used for cider or apple juice.
"First of all we had a proper winter," he said
"The trees were fully dormant, they went to bed for what, two or three months and when they woke up they were full of vigour and we had a good blossom.
"At one time with the dry weather, we were going to have a lot of golf balls.
"Now, it turns out the rain came at the right time which made the apples swell like mad.
"So, on the quality side, it's a wonderful year."