Iron Age items going on display in Worcestershire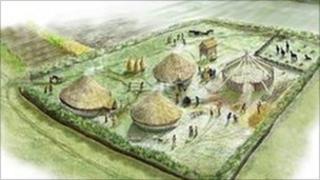 Iron Age items uncovered during excavations of the new site for a Worcestershire primary school have been on display to the public.
A team excavating the new site for Bengeworth First School in the Evesham area unearthed a settlement which is at least 2,500 years old.
Bronze Age and Iron Age pottery have been uncovered.
A free event was scheduled at the King's Road site between 1430 BST and 1830 BST on Tuesday.
The site was believed to have been a small farmstead.