Redditch pride adverts to overhaul 'dull' town image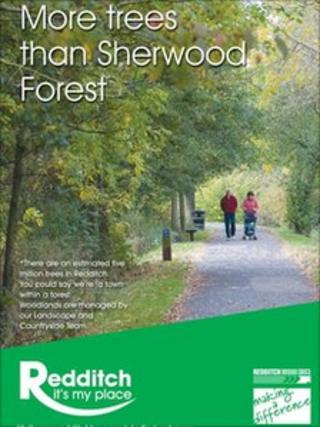 A council in Worcestershire has started a marketing campaign to encourage residents to be proud of their town.
Redditch Borough Council said it had taken out advertising in local media and around Redditch to try to tackle "unjust perceptions" of the town.
It said: "The aim is to counter 'dull new town' comments about Redditch and show the town has much to be proud of."
The council said it had an enviable amount of green space and a sailing lake and was close to an airport.
The 'It's my place' campaign will run until the middle of September and was started in response to council feedback from young people who said they thought the town was dull because there was nothing for them to do in terms of nightlife and clubs.
The council said it had recently opened a BMX track and was planning to build a new swimming pool as part of the town's improvement plans.
'Energetic nightlife'
A spokesman said £5,000 had been spent on campaign advertising in local papers and the production of banners and posters, although the majority of the marketing is being done online through a presence on social networking sites such as Facebook and Twitter.
Redditch was designated a "New Town" in 1964 and the population more than doubled to 80,000, partly due to overspill from Birmingham.
The Channel 4 show, The Word, once dubbed the town "the most boring place in the known universe".
But the promotional website, Redditch.com boasts: "An energetic nightlife is provided by over 20 cafes and restaurants, 47 pubs, a theatre, a seven screen cinema complex and numerous social clubs."