New bridge over River Severn in Worcester opens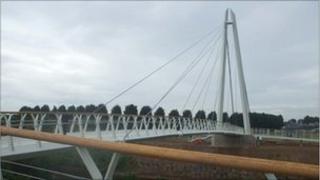 A new £1.8m pedestrian and cycle bridge over the River Severn in Worcester has been officially opened.
Diglis Bridge is part of the charity Sustrans Connect2 project which was awarded lottery cash to improve transport in 2007.
The new construction links the footpath in Weir Lane with Navigation Road and the Severn Way footpath.
A county council spokesman said the bridge had been the culmination of a long and complex project.