Regiment's badge on Hereford war memorial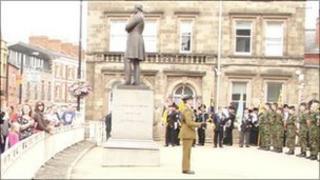 A re-dedication service has been held at a war memorial in Hereford to mark an Army regiment's badge being added.
The Rifles, which was formed in 2007, has its emblem on the memorial in St Peter's Square, Hereford.
The memorial also now bears the names of Rifleman William Aldridge, Sjt Paul McAleese and L/Cpl Daniel Cooper, three local soldiers who died in Afghanistan.
Soldiers from 2 Rifles and 3 Rifles were among those present at the service on Saturday afternoon.
The Rifles was formed from the amalgamation of the Light Infantry, The Royal Greenjackets, the Devon and Dorset Light Infantry and the Royal Gloucestershire, Berkshire and Wiltshire Light Infantry.
The Light Infantry, formed in 1967, was the successor to the King's Shropshire Light Infantry and the Herefordshire Light Infantry (TA).
Mr Aldridge, from Bromyard, had just turned 18 when he died in an explosion in Helmand Province last July.
Sjt McAleese, 29, from Hereford, was killed by an improvised explosive device in Helmand in August 2009.
L/Cpl Cooper, 21, from Hereford, was killed as he tried to clear a path south of the Sangin district in northern Helmand in January this year.