Glastonbury 2022: Why Wet Leg had a donkey on stage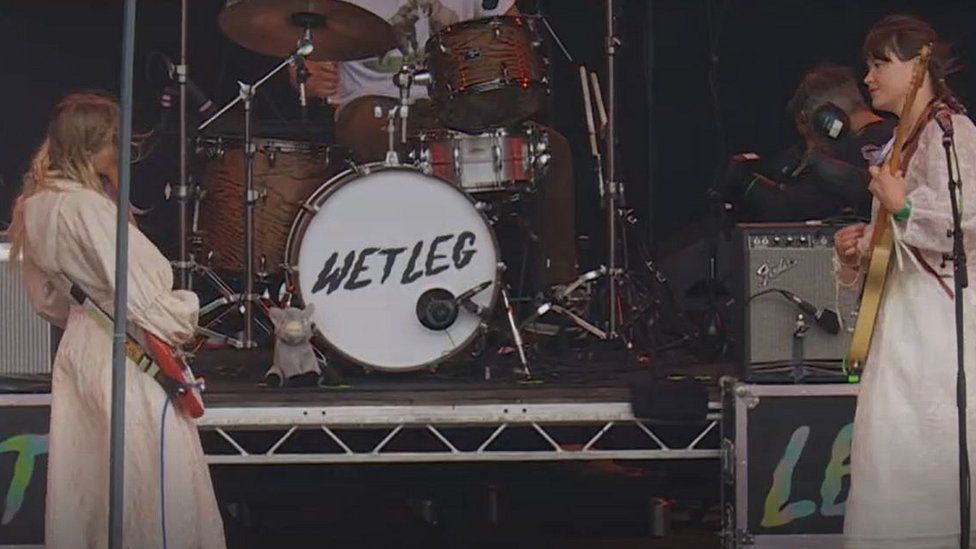 The Isle of Wight band were joined on stage by a toy donkey that was presented to them by the island's donkey sanctuary.
Hester Chambers, from the duo, visited the charity last week with guitarist Joshua Mobaraki, after performing at the Isle of Wight Festival.
Wet Leg have become the sanctuary's first celebrity ambassadors.
The critically-acclaimed band previously adopted Isle of Wight Donkey Sanctuary's donkey Archie Baby after hearing his story.
Derek Needham, manager of the animal welfare charity, explained: "Archie Baby had a series of internal tumours that affected his urinary system, but after having an operation, his new waterworks came out at very odd angles, and Archie Baby - and several other donkeys - frequently had a wet leg.
"The group are very supportive of our animal welfare work, heard the story about Archie Baby, saw the connection, adopted him, and have stayed in touch."
Following the Isle of Wight Festival they adopted another of the sanctuary's donkeys, Angelica, which is the name of one of the band's recordings.
They also received a cuddly donkey to take with them on tour, which they named Archie Baby 2.
"Wet Leg were as good as their word on Friday afternoon and took their new furry donkey on stage with them at Glastonbury," Mr Needham said.
Wet Leg are now heading on tour to Australia and the donkey sanctuary hopes Archie Baby 2 will become a regular fixture on stage.
"The group all have very busy lives now, but we hope that wherever they are in the world they will remember our donkeys in their own little piece of the Isle of Wight," Mr Needham said.
Related Internet Links
The BBC is not responsible for the content of external sites.