New Forest horse rider voices fears after van near-misses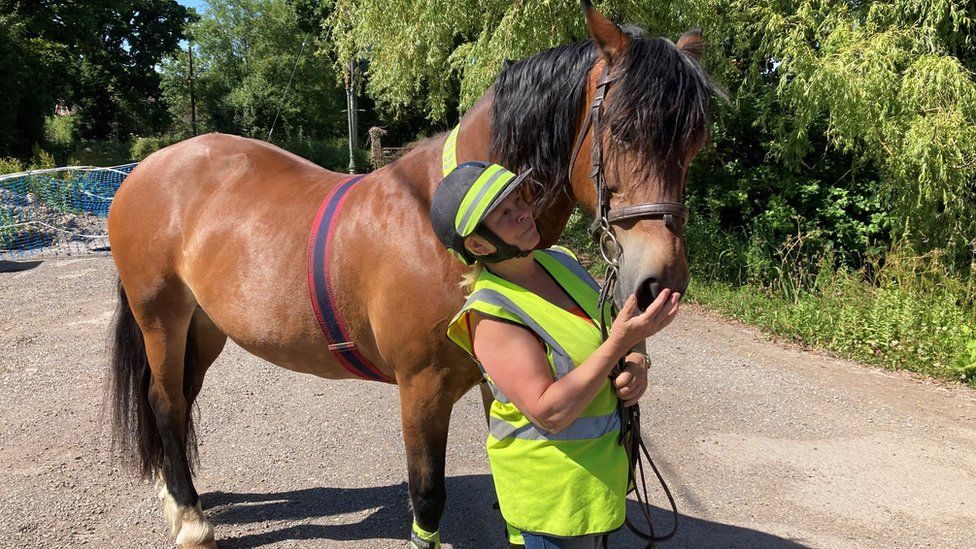 A keen horse rider has said she fears for her safety after two close calls with supermarket delivery vans.
Dawn Price, from Totton, Hampshire, said both incidents involved Asda home delivery vans in the New Forest where she rides her horse, Pebbles.
In a statement, Asda said its drivers go on "numerous" training courses and safety was a key priority.
Ms Price, who said the latest incident was about a month ago, told BBC News: "I spoke to the manager of transport and he said he would deal with the situation but he never took my name or address, just the details of the van and driver."
The Highway Code stipulates drivers should give people on horseback at least 2m (6ft) space and slow down to 10mph.
Ms Price said it would be helpful if drivers stopped or slowed down if requested "which they don't always do, some get quite irate with us," she added.
Ms Price, who has been riding since 1984, said it could get "very scary" and cited one occasion where her whip was nearly taken "out of my hand" after a driver got so close it "actually hit his windscreen".
"My fear is being hit from behind and being catapulted into oncoming traffic," she said.
Asda said: "We are sorry that on those occasions the rider did not feel safe and we have reminded our drivers about the importance of driving carefully near horses."
Hampshire Constabulary said drivers should adopt an "expect the unexpected" approach as "the consequences of a collision involving cyclists, horse riders and the animals themselves can be devastating".
New Forest National Park Authority's Erika Dovey said: "Passing slow and wide is an important message we promote as part of the Animal Accident campaigns we run."
Related Internet Links
The BBC is not responsible for the content of external sites.