Cost of living: 'Shocking' demand for food parcels from families
By Maria Zaccaro
BBC News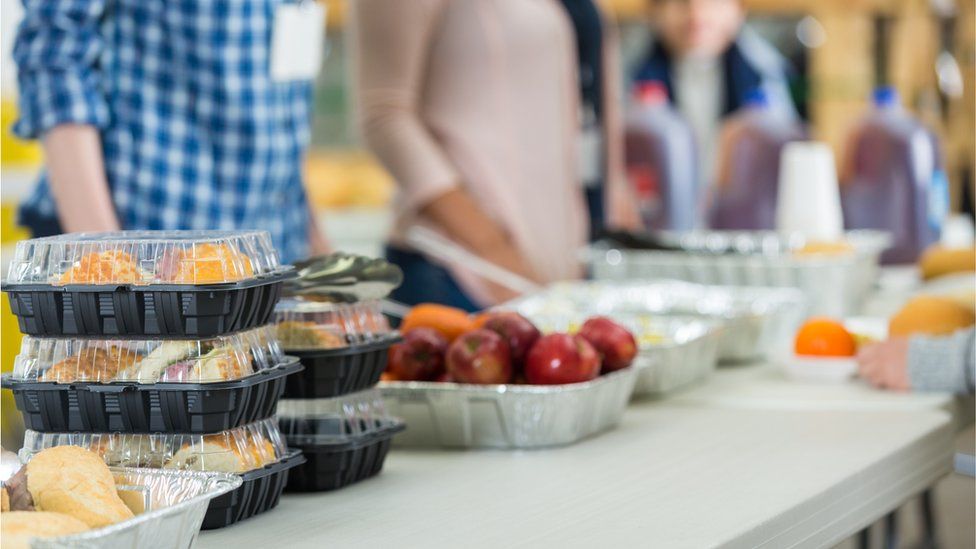 "Going to these places makes it feel like I am hitting the bottom," said Kathleen, who last month had no other option but to resort to food pantries.
There are warnings that the demand for help in the city is rising at a "shocking" pace and is even greater than during the pandemic.
The government has said it stands ready to do more.
Kathleen, who did not want to give her full name, said she had been struggling financially "for a little while".
But it was only last month she was left with no choice but to turn up to food pantries and food banks to top up her monthly shopping.
"I was a little bit upset," she said, adding: "I am a very proud woman, it can be difficult accepting the help.
"Going to these places makes it feel like I am hitting the bottom but I am not there yet."
She has recently secured a part-time job and hopes her financial situation will improve soon, but she remains concerned about the months ahead as prices continue to rise.
The effect of the cost of living crisis is also what has been worrying Rebecca Austin, a family inclusion and support officer at Townhill Junior School in Southampton.
She said the number of parents needing food parcels, provided by the school, was increasing at a "shocking" pace, going from 59 to 69 in the last six weeks.
Of those, four were families who were not eligible for benefits.
"We have got a situation where people are having to completely change their mentality and queue for a food bank, while they might have never had to before."
While talking in her office, a child knocked on the door asking for food as she was hungry and has nothing to eat for her mid-morning break.
"This happens all the time," Ms Austin said.
But as demand is expected to increase and donations plummet, she is now appealing for help.
"I never want to get to the stage where we have to turn a family away but it is a possibility," she said.
The Big Difference, a food redistribution project in Southampton, has so far offered a lifeline to Townhill Junior School.
But Sanjay Mall, who founded the voluntary organisation in 2020, said donations had recently dropped while the demand was "greater" than the one seen in the last two years, due to the Covid-19 pandemic.
"People can't afford to live now," he said.
"Everything is so expensive. It is the worst [crisis] I have ever seen in my life."
Charity Southampton City Mission is planning to expand its Marketplace scheme to deal with the crisis.
The project gives residents the opportunity to get support on a range of issues from mental health to employment, and it offers people the chance to pay £5 to buy 15 items, ranging from fruit and vegetables to frozen food.
"It is a token amount to give them ownership and make sure they are committed to helping themselves," the charity's general manager Duncan House explained.
The newly-elected leader of Southampton City Council, Labour's Satvir Kaur, has called on the government to do more.
He has said removing VAT from energy and cutting tax, including fuel duty, were among the measures that could be taken.
The government has said it would invest £37bn on a number of measures, including a tax cut in July, an energy bill discount for every household and a payment of £650 to help the poorest families.
"The chancellor has been clear that as the situation evolves our response will evolve," a government spokesperson said.