Farmer sets up Livestock Lookout text alert system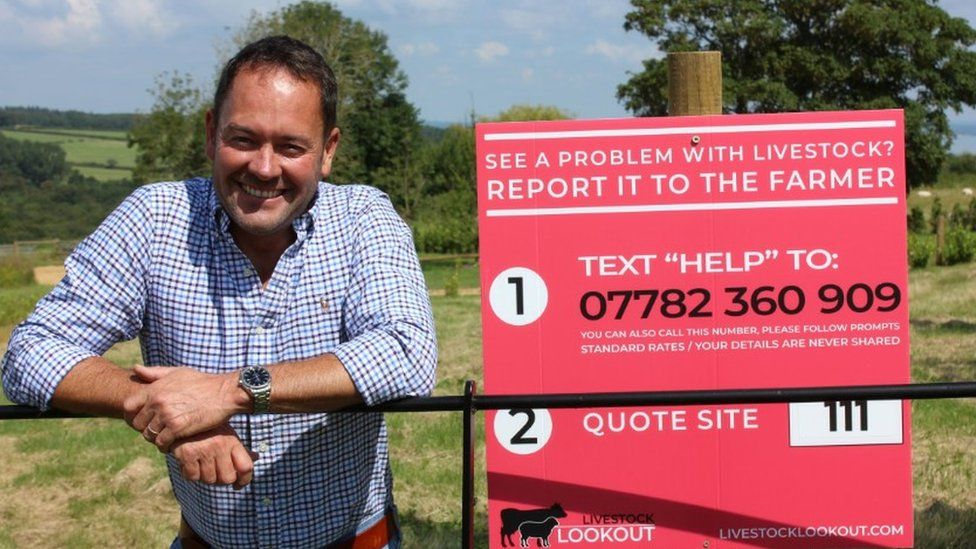 A text alert system to warn farmers about livestock in danger has been developed.
Farmer Tim Rogers set up the Livestock Lookout system on the Isle of Wight after cattle escaped on his land.
The technology, being offered to farms across the UK, lets passers-by warn farmers if livestock is the loose or distressed.
Mr Rogers said it was an "effective early warning system" for the rural community.
He came up with the idea after cows escaped from a field on his land, knocked someone over and damaged a car.
He said he only found out when concerned passers-by posted about it on social media but had no way of informing him.
Putting up a sign with his mobile number only encouraged nuisance calls, he added.
Instead, he used intelligent technology to allow farmers to be contacted quickly but anonymously.
Farmers display a sign with a central text number and a unique location number.
The farmer then receives an text, via a central exchange directory, to alert them to any incidents, while the system gathers more information from the informant.
Mr Rogers, who farms 250 acres (100 hectares) at Wootton, said he hoped the technology, which has been trialled on the island for the past year, would allow walkers and visitors to report issues of concern.
"During the pandemic a lot of people have been in the countryside who are unaware of the Countryside Code," he said.
"Livestock worrying and attacks by dogs is very costly to farmers so people being able to report these issues is invaluable."
Robyn Munt, chair of the National Farmers Union on the island said: "This is an innovative and positive way of interacting with, and utilising, the increased numbers of people enjoying the British countryside."