Isle of Wight considers environmental visitor charge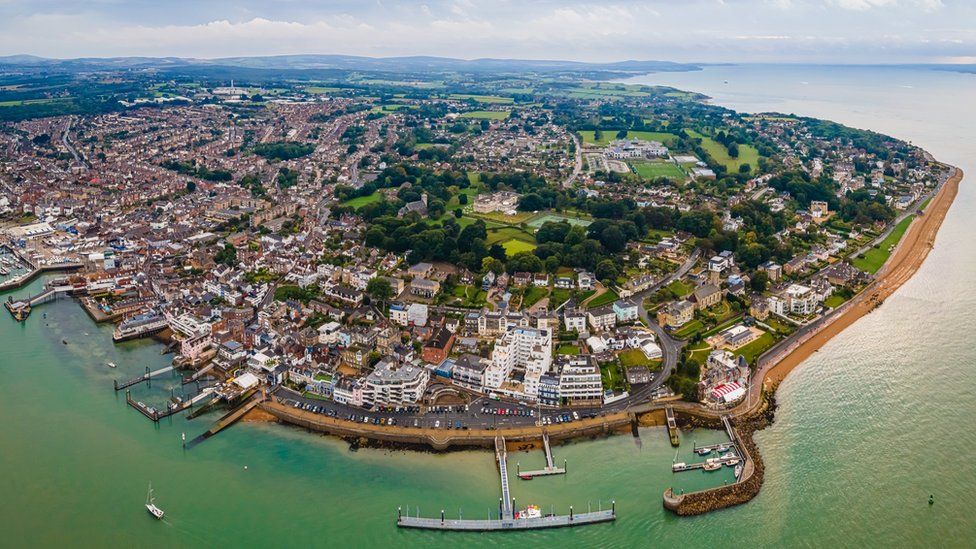 A charge on tourists visiting the Isle of Wight in order to "support and enhance" the environment has been mooted by councillors.
The island attracts about three million tourists each year and has been a popular staycation destination.
Labour councillor Richard Quigley said the levy for visitors could ease financial pressures on the council.
Cabinet member Jonathan Bacon said the authority wanted an "open and transparent debate".
Mr Quigley told a scrutiny committee meeting that charging up to £1.50 for journeys starting on the mainland could help maintain the island's infrastructure against wear and tear caused by visitors, according to the Local Democracy Reporting Service.
"It could go a long way to making sure we can keep our beaches clean and our bins emptied, all the things visitors expect when they come over," he added.
So-called tourist taxes are common on the continent with hotspots like Venice currently considering a variable charge to discourage overcrowding.
A levy has also been previously suggested for Edinburgh.
Mr Bacon said the authority was having an "in-principle discussion" but a tourist tax was "not what is being talked about".
"We are, as a council, very short of money - but the idea of a green levy is potentially a way to support, enhance and maintain our environment.
"We want to find some acceptable means to not dissuade people from coming to the island, but develop and grow those things which will encourage people to come."
Tourism body Visit Isle of Wight declined to comment as no firm proposals were yet in place.
Among attraction operators, chairman on the Classic Boat Museum in Cowes, Mark McNeill, said a levy was "not a bad idea" in principle.
"People come over to enjoy the beauty of the island - everyone will understand if it will make a difference and is used for the right causes," he added.
"I don't think adding a couple of pounds will make or break a decision of coming to the island."
Related Internet Links
The BBC is not responsible for the content of external sites.