Covid: Unvaccinated frontline NHS staff at Southampton hospital to be redeployed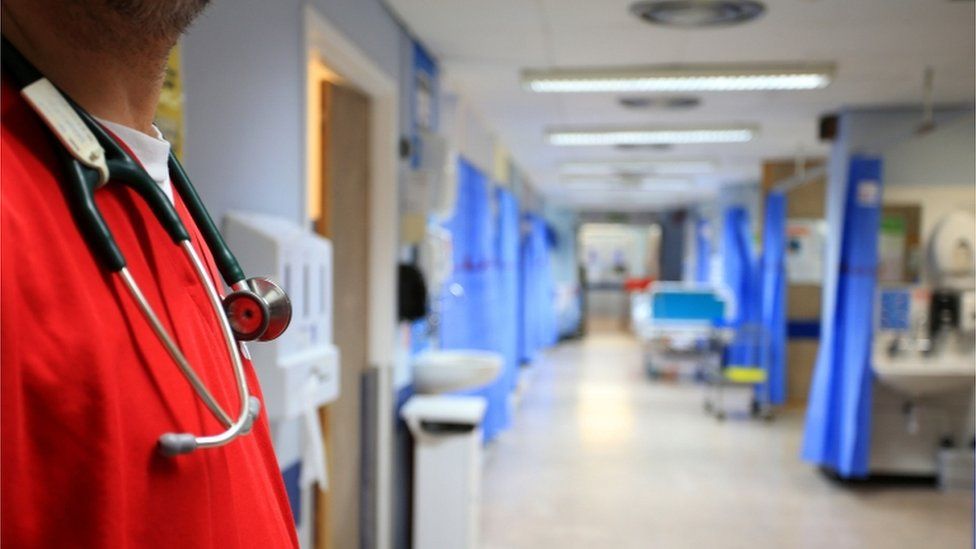 Staff at a hospital who have refused to have a Covid vaccine have been told they will not be allowed to care for patients.
Frontline workers at Southampton General Hospital who have declined a jab will be redeployed to other roles, University Hospital Southampton NHS Trust (UHS) told staff in a letter.
It said: "Our priority is to keep our staff and patients safe."
One member of staff said they felt "bullied" by the trust's decision.
Speaking to the BBC anonymously, she said: "I made my mind up that I'm not quite ready yet to have it [the vaccine] and it's my own risk, isn't it?"
The woman explained: "For me, I think it's freedom of choice. I'm not against vaccines. I do understand the purpose of vaccinations."
She said the letter, seen by the BBC and which did not set out where staff would be redeployed, left her feeling "frustrated".
She added: "I was very disappointed, I felt bullied. It was shocking really."
According to UHS, some 94% of staff have been vaccinated since the trust began its vaccination programme in December.
In a statement, it said that throughout the pandemic the safety of staff and patients was "at the heart of our decision-making".
The trust added the move to redeploy unvaccinated staff away from frontline roles was part of its commitment to do all it could to "protect staff, patients and the broader capacity of our workforce to support our services".
The Royal College of Nursing (RCN) said it did "not support staff being made or coerced into having the vaccine".
It said that while all members of the nursing team should have "any vaccine deemed necessary to help protect themselves, their patients and their wider community" there were "serious concerns around mandating vaccines".
"Like the wider population, health and care staff are a diverse group and there are both physical and societal barriers for some on the take up for the vaccine," it continued.
The nursing union added that staff vaccination should not form part of staff contracts, nor be a condition of employment or part of employment contracts, linked to terms and conditions of employment or to pay.
UHS said the pay and permanent jobs of redeployed staff would "remain protected".
Related Internet Links
The BBC is not responsible for the content of external sites.