'Educate your son' art after remarks to staff at Southampton cafe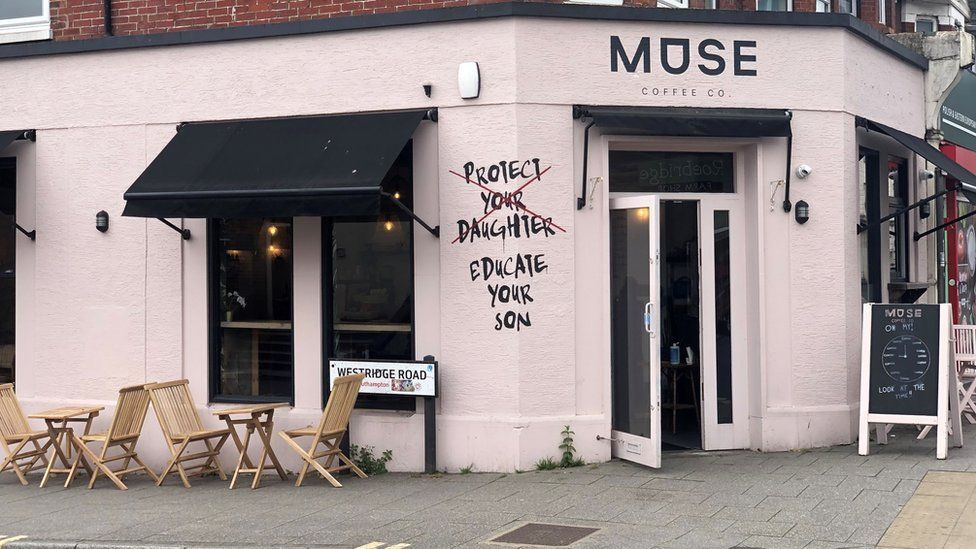 A cafe has commissioned a street artwork after "inappropriate comments" were made to female staff.
The wording of "Protect your daughter" crossed out above "Educate your son" was painted on the side of the Muse cafe in Portswood, Southampton.
The slogan is associated with the campaign against violence against women.
Southampton City Council said several complaints had been made about it "stereotyping men".
Cafe manager Kate Jeffcoate said the message "really resonated" with her staff members.
"Through lockdown we would have single members of staff working due to social distancing rules and unfortunately found that our female staff occasionally had to deal with instances of individuals making inappropriate comments about our looks, being a little forward etc.
"It's stuff that may not seem a big deal to some, but for a woman alone can feel quite intimidating and uncomfortable."
"We felt frustration that it really is madness that females have to take so many extra precautions that males wouldn't even have to think about."
While many on the cafe's social media sites welcomed the message, others criticised it as "provocative" and "stereotyping men".
Southampton City Council said: "We are aware there have been some complaints regarding the new street art that has been installed outside Muse café in Portswood."
It said it did not have the authority to remove artwork from private or commercial property and the issue was a matter for the business owner.
Related Internet Links
The BBC is not responsible for the content of external sites.