Harry Potter: Portsmouth library may reclaim £42,500 book sold in USA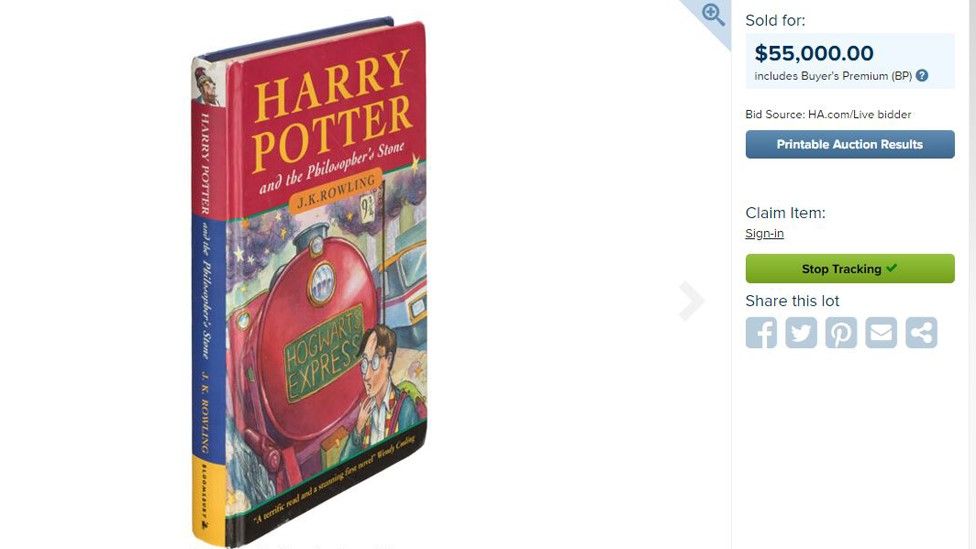 A Portsmouth library may attempt to reclaim one of its old Harry Potter books after it sold at auction for $55,000 (£42,500).
The first edition Harry Potter and the Philosopher's Stone bears a "Portsmouth City Library Service" stamp and number.
A California seller sold it at Heritage Auctions in Dallas, Texas, to a buyer in Tennessee, for more than double its $20,000 estimate.
The library service says the book had gone missing from its collection.
Only 500 hardback first editions of Harry Potter and the Philosopher's Stone were printed in 1997, most of which were sent to UK schools and libraries.
Portsmouth City Council library service claims the book in question was not officially checked out.
A stamp inside appears to be from August 1997, before the Harry Potter phenomenon took off.
Eric Bradley, Heritage Auctions' public relations director, said: "People actually really cherish those stamps and markings because it sets a provenance for the book."
Mr Bradley, who is also the writer of Harry Potter - The Unofficial Guide to the Collectibles of Our Favorite Wizard, added: "If the Portsmouth library was interested in getting it back... I think it would set a precedent, because I think it would be the first time a library took a serious case to reclaim a Harry Potter book.
"It would really open the floodgates for others who own the books."
The library service said: "Our records show that this book was originally owned by Portsmouth's school library service and was one of three first editions we purchased in 1997 when the first Harry Potter story was published.
"In 2004 we sold two copies to raise funds for the library service but the third copy was missing."
It added: "Now we know the whereabouts of the book... we're looking into our options and whether we might be able to reclaim the book."
Related Internet Links
The BBC is not responsible for the content of external sites.