Adventurer circumnavigates the world in gyrocopter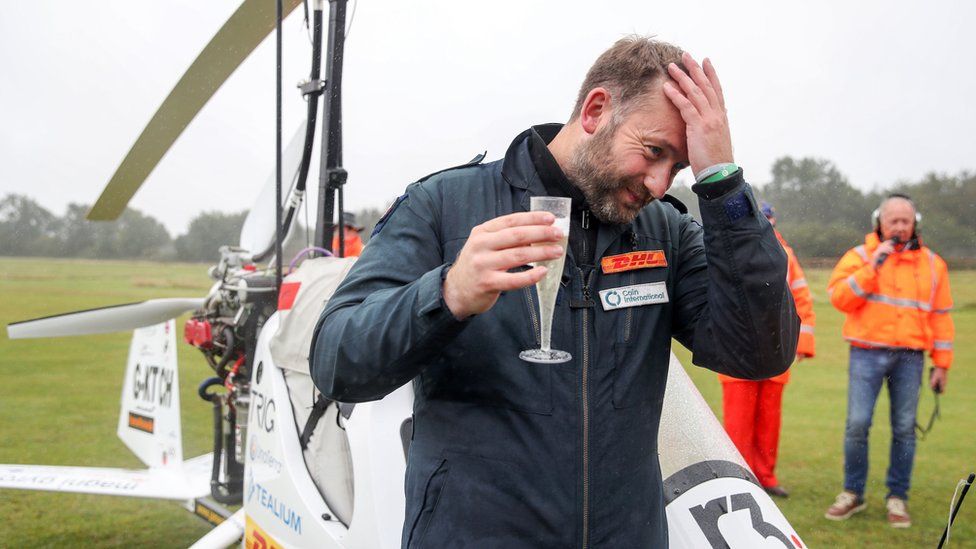 An adventurer has become the first person to fly solo around the world in an open-cockpit gyrocopter over 175 consecutive days.
The adventurer, 37, who landed in Basingstoke on Sunday afternoon, said the experience had been "magical".
His flight path took him over Europe, Asia, and North America, during 122 separate flights.
Mr Ketchell took off from Popham Airfield, returning back to the same airfield nearly six months later.
Describing the experience Mr Ketchell said: "It's all a massive blur to be honest, the fact that I have literally flown around the world, it hasn't sunk in, it's probably going to take quite a while to. It feels really good, it's been magical."
The UK Scouting Ambassador flew a MAGNI M16C gyrocopter, which travels at 70 knots with a range of just 700 nautical miles, and has a cockpit open to the weather.
He compared it to "flying a motorbike in the sky".
He was almost struck by lightning at one point but said crossing the Atlantic Ocean from Greenland to Iceland had been his hairiest moment.
"The weather had deteriorated quite badly - almost zero visibility - and you need to be able to see when you're flying," he said.
"I was able to get through it, but if not I would've had to have ditched into the Atlantic Ocean."
The motivational speaker said he had only learnt to fly gyrocopters two years ago, so people thought he was "a maniac".
The challenge follows his previous "ultimate global triathlon" which saw him row across the Atlantic Ocean in 2010, climb Everest in 2011 and cycle 28,969 km around the world in 2013.
Asked what is next, Mr Ketchell said that no human being had ever circumnavigated the earth by air, land - and sea.
The challenge has raised more than £10,000 for charities.
Norman Surplus from Northern Ireland finally completed the last 5,000 miles across Russia of his solo around the world flights in a similar craft, nine years after he started the challenge.
He began in 2010 and completed various legs over the years, flying to locations and back to Larne. In 2015 he flew across the North America and the North Atlantic, where he set the record for single-handedly piloting his autogyro across the Atlantic Ocean.
Related Internet Links
The BBC is not responsible for the content of external sites.